Overview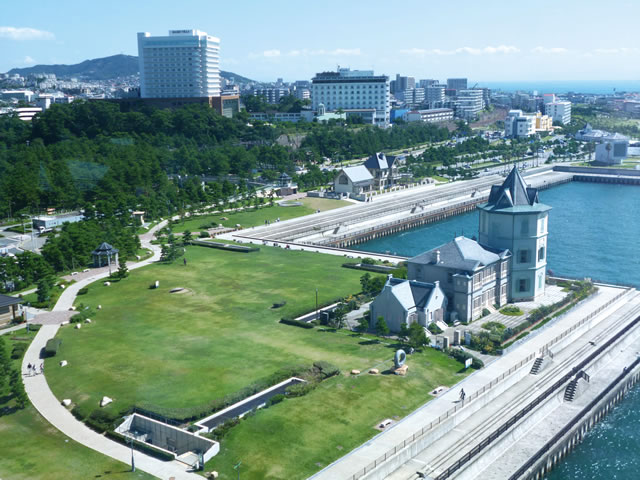 Maiko Beach with its sandy seashore dotted with pine trees, and sand-birds flying to and from, has been featured in poetry over the years and is popular with travelers of land and sea.
The Emperor Meiji was especially fond of this area and visited it seven times.
In this great scenic spot, the current Maiko Park was opened as the first Hyogo prefectural urban park in 1900. This place of scenic beauty has been an important point for transportation, and it underwent a drastic change as the city modernized. Today, it's the gateway for the Akashi-Kaikyo Bridge, or "Pearl Bridge," which is the world's longest suspension bridge, and it welcomes many visitors from all over the world.
From the Maiko Marine Promenade, built in the bridge girder situated approximately 50 meters above sea level, you can enjoy the peaceful scenery of the strait that still retains the atmosphere of the old days, not to mention today's view of the bridge and the strait.
Park Information
Location
Higashimaiko-cho, Tarumi-ku, Kobe-city
Area
7.8 hectares
Date of foundation
July 25th, 1900
Main facilities

Maiko Pine Forest
Maiko Marine Promenade
Maiko Deck
Parking
Sun Yat-sen Memorial Hall (Ijokaku)
Former Residence of the Kinoshita Family
Former Residence of Sanji Muto(Former"Kanebo Maiko Club")